Projects
-
bio
-
repertoire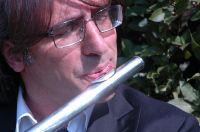 Vermont Counterpoint
by Steve Reich
© Amiata Records

Instrument: Flute
He is dedicate to new music repertoire and collaborates with conemporary artists throughout the world.Ceccomori has inspired many works for flute of wich he has given world premieres. He has performerd in Europe, Canada, Unied States, South America, Africa. Cd's are published in his name, and he also appears in collaborative recordings, solo recordings, televsion and radio broadcasts. Ceccomori regularly gives masterclasses and his articles are published in newspaper and magazines such us Amadeus, Falaut, Syrinx. Raitrade, ISCM and Cemat both supporting Ceccomori'effort in the dissemination, of contemporary music.
His music has many influences from classic to new contemporary music, minimalism electronic and sperimental.
Graduated at the Conservatory "F.Morlacchi" in Perugia, and completed his study with other important flutists and musicians: S.Gazzelloni at Accademia Musicale Chigiana of Siena, M. Ancillotti, A. Persichilli, M. Larrieu, S. Palm, R. Fabbriciani, M. Stockhausen and so many others.
Sponsored by IMAIE, has collaborated with CEMAT ITALIA, SIMC, ISCM, USCB (bulgarian comp.), LICA (Long Islands Comp. NY).
Soloist with Orchestra Khmelnitsky (Ucraina), with'Orchestra Internazionale d'Italia, and two times in Vatican city.He has collaborated with the most italian and international festivals: SpazioMusica - Cagliari, Nuova Consonanza and Musica Verticale in Rome, Accademia Filarmonica Romana, Darmstadt, Biennale of Contemporay music of Zagreb, Paris, Stockholm Italian Cultural Institute, Munich (Gasteig), Prague, Kromeritz, Sofia (Musica and Relation), Rijeka, Bratislava, Budapest, Gent "Logos Foundation"- Belgium, "Sibelius Academy" of Helsiniki, Canada Tour (Roy Thomson Hall in Tornonto and Montreal), tours in Germany (Gasteig in Monaco, Friburg, Ingolstad, Fulda, Bamberg, Wurzburg, Heidelberg), Slovak, Spain, Belarus (Musical Academy in Minsk). In United States he appears in San Francisco Shrine of Saint Francis, "New Music Festival" of Miami-Florida International University, Colorado college, Lincoln Center in New York, Washington DC Bulgarian Embassy,Lexington New Music festival, University of Kentucky, Missouri State Univ., University of Georgia, Southern Mississippi, New York University, Hartford University, ,Wesleyan College, Goucher College di Baltimora, Nazareth College Rochester, Haveford College Philadelphia, New York Lica, Grand Valley State University. In Africa (Nairobi, Addis Abeba), Brasil (San Paolo, Porto Alegre San Pedro Theatre), Rome Città del Vaticano "Concert For Peace".
He has performed so many premiers of composers all around the world.
He has been premiated at international competition of Stresa in 1988 (for contemporary music) and recorded for the followinf labels: Amiata records, BMG/Ricordi, Edipan, Rara, Raitrade, Tweedle, Max Research,UCB, LP, VDM records, Videoradio.
Recorded by RAIUNO Television, RAI Radiouno and Radiotre, Radio New York, Channel 5 of Filodiffusione
He works with RAI Trade to spreading for contemporary italian music.
He writes on flute magazine Falaut, Syrinx and classciaonline Masterclasses in USA, Brasil, Belarus, Italy.
He plays all flutes family. Issued for Dasi Flute a short pratical method for contemporary flute "Flute today"
Updated to 02/2012