Voices
-
bio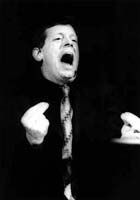 Instrument: Baritone - Conductor - Bass
Nicholas Isherwood is one of the leading singers of early music and contemporary music in the world today. He has worked with Joel Cohen, William Christie, Peter Eötvös, Paul McCreesh, Nicholas McGegan, Kent Nagano, Zubin Mehta and Gennadi Rozhdestvensky as well as composers Sylvano Bussotti, Elliott Carter, George Crumb, Hans Werner Henze, Mauricio Kagel, György Kurtág, Olivier Messiaen, Giacinto Scelsi, Karlheinz Stockhausen and Iannis Xenakis in prestigious venues around the world (La Scala, Covent Garden, the Théatre des Champs Elysées, Salzburg Festival, Concertgebouw, Berlin Staatsoper, Vienna Konzerthaus, Tanglewood). Operatic roles include "Antinoo" in Monteverdi's Il Ritorno di Ulisse in Patria with Boston Baroque, "Claudio" in Händel's Agrippina with Nicholas McGegan, "Satiro" in Rossi's Orfeo and "Pan" in Marais' Alcione with Les Arts Florissants, "Joas" in Porpora's "Il Gedeone" with Martin Haselböck, "Frère Léon" in Saint François d'Assise in the last composer supervised production, "Der Tod" in the two productions of Ullmann's Der Kaiser von Atlantis with the Bach Akademie in Stuttgart and 2e2m, "Roméo" in Dusapin's Roméo et Juliette at the Avignon Festival, "Lear" in Hosokawa's Vision of Lear for the Munich Biennale, "Il Testimone" in Bussotti's Tieste at the Rome Opera, "Micromégas" Mefano's Micromégas , "Bartolo" in Mozart's Le Nozze di Figaro at the Eugene Opera, "Hotel Manager" in Adès Powder her Face with Pier Luigi Pizzi in Lugo and at the Teatro Comunale in Bologna, "Astrodamors" in Ligeti's Le Grand Macabre with Zoltan Pesko and La Fura dels Baus and "Il Testimone" in Bussotti's Tieste, the title role in Luca Lombardi's Il Re Nudo with Dmitri Bertmann, all at the Teatro dell'Opera in Rome, and "Lucifer" in the world premieres of Stockhausen's Montag, Dienstag, and Freitag from Licht at La Scala and the Leipzig Opera and in Donnerstag aus Licht at Covent Garden. He has improvised with Steve Lacy, Joelle Léandre, Sainkho Namtchilak and David Moss,recorded over 50 cd's and appeared in three films. He has published an article on Scelsi the journal of the Scelsi Foundation. His article on the vocal vibrato will be published next year in the Journal of Singing in 2007 and his book The Techniques of Singing will be published in 2008 by Bärenreiter Verlag. He has been visiting professor of singing at SUNY at Buffalo, Notre Dame and the Ecole Normale de Musique and taught master classes in venues such as the Paris Conservatoire, Salzburg Mozarteum, Milan Conservatory and Stanford and is currently Assistant Professor of singing and opera at the University of Oregon.
Nicholas Isherwood's first experience as a stage director was Bruno Maderna's opera Satyricon at the Carré St. Vincent in Orléans, France in 1990. He supervised the lighting, staging, costumes and programming of his sextet, VOXNOVA, from 1992-2008, notably directing Luciano Berio's A-ronne in Alicante, Reims, Paris, Royaumont, Perpignan and Togamura, Japan. Isherwood has directed student productions of Adriano Banchieri's La Pazzia Senile, John Cage's Song Books, Karlheinz Stockhausen's Am Himmel Wandre ich…, Purcell's Dido and Aeneas and Mozart's Die Zauberflöte at SUNY at Buffalo, Calarts and the University of Oregon.
Professional productions include Hans Werner Henze's El Cimarrón in Fontenay, Karlheinz Stockhausen's Am Himmel Wandre ich… in Paris, Bari (Teatro Petruzzelli), Utrecht, Amsterdam, Torino, Steier (Steierischer Herbst), Berlin (Deutsche Oper), Macerata, Mexico City (Musica y Escena), Guanajuato (the Festival Cervantino) and Reims (the CNAT), John Cage's Song Books at the Théatre de Bourgogne in Dijon and the Théatre Sylvia Monfort in Paris and Mauricio Kagel's Phonophonie in Paris (Salle Olivier Messiaen), Venice (Teatro Fondamenta Nuova), Torino (Teatro Regio), Buffalo, Mexico City (Musica y Escena), Paris (the Salle Olivier Messiaen) and at the Stuttgart Opera. After taking a summer course on the "commedia dell'arte" with Antonio Fava in Reggio Emilia, Isherwood has become increasingly interested in this art form. He has acquired a collection of masks and directed student productions of Adriano Banchieri's La Pazzia Senile and Luciano Berio's A-Ronne in traditional "commedia" style.
Nicholas Isherwood's music has been influenced by the great composers he has had the priviledge to work with as a singer. His music has been performed at venues such as the Gewandthaus in Leipzig, the Goethe Institut in Paris, Yehudi Menuhin's Flâneries Musicales in Reims, the Perpignan Festival, the SMIO in Orléans, the Théatre Dunois in Paris, the Dôme IMAX in paris, Freiburg, the MDR in Halle, the SWR, Vanderbilt University, the University of Oregon, Kaoshung, Taiwan, Hong Kong and Togamura, Japan. He has received commissions from the DRAC du centre, Art Zoyd and the CNAT in Reims. Isherwood's music has been performed by VOXNOVA, Stefano Cardi, Michel Amoric, Magnus Lindberg, Isabel Soccoja, Christophe De Villeneuve and the soloists of the MDR children's choir. His music has been broadcast by France Musique, the MDR and the SWR. He is a member of the SACD.
Updated to 2009