Conductors
-
bio
-
works
-
recordings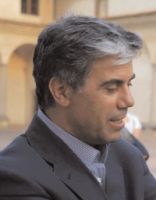 Immotus (Magno silentio audire)
for soprano and chamber orchestra (1985)

Immotus (Magno silentio audire)
for soprano and chamber orchestra
Diapason Editions

Instrument: Conductor
Born in Teramo, Ruffini was educated (and is currently living) in Florence, where he studied at the Conservatorio "Luigi Cherubini" and at the Università degli Studi di Firenze, obtaining diplomas in Composition, Conducting (both orchestral and choral), Choral Music, and Piano. A musicologist, orchestra director, and composer, he is known primarily for his scholarly work on the Luigi Dallapiccola and Carlo Prosperi as well as for his research on musical theatre in Italy, on twelve-tone music, and on the relationship between music and the figurative arts. His scholarly and professional interest in Luigi Dallapiccola dates from the early 1980s. His musical formation has been shaped primarily by Carlo Prosperi, with whom he studied Composition at the Conservatorio "Luigi Cherubini" in Florence, but also by Romano Pezzati, who introduced him to score analysis, and by Piero Bellugi and Franco Ferrara, his teachers in Orchestra Conducting. His greatest debt for his intellectual development is owed to Laura Dallapiccola. In 2005 he was entrusted with the "Fondo Carlo Prosperi" at the Archivio Contemporaneo "Alessandro Bonsanti" in the prestigious Gabinetto Scientifico Letterario G.P. Vieusseux in Florence.
From 1990 to 1995 Ruffini was Conductor of the Orchestra of the Opera Theatre "M.P. Musorgskij" in St. Petersburg, Russia, where he directed, for the most part, the great Italian repertoire (Verdi, Rossini, Puccini). In St Petersburg he also directed symphony concerts with the prestigious Leningrad Philharmonic, conducting the Russian premieres of the two most important symphonic works of Luigi Dallapiccola (Two Pieces for Orchestra and Variations for Orchestra). He inaugurated the Teatro Rendano in Cosenza with Mascagni's Cavalleria rusticana and Puccini's Gianni Schicchi. At the Festival della Valle d'Isria, he conducted Iannis Xenakis's Medea Senecae, staged by Martina Franca. He conducted at the Teatro Comunale in Florence, at the Cantiere in Montepulciano, and the Orchestra della Toscana. He has recorded Sylvano Bussotti's opera Nynmpheo (Ricordi), and La Passion selon Sade and Intégrale Sade for the Venice Biennale. He was the first to record various works by Carlo Prosperi, Aldo Clementi, Bruno Bartolozzi, Arrigo Benvenuti, Gaetano Giani Luporini, Romano Pezzati, Ugalberto De Angelis, Valentino Bucchi, and his own compositions (for such labels as Ricordi, Diapsason, Editel Elettronic, Gims, Stradivarius, Bongiovani, Mondo Musica, EMI). His recording efforts have been particularly dedicated to the works of Luigi Dallapiccola, whose Piccola musica notturna/b and Tre laudi he was the first to record. In November 2004 the music critics for the Sacramento Bee (San Francisco) judged his concert with the Empyrean Ensemble (completely dedicated to works by Luigi Dallapiccola) to have been the best concert of 2004 in the entire California region.
In 2002 the Kunsthistorisches Institut in Florenz/Max-Planck-Institut entrusted him with the "Progetto Musica e Arti figurative" in order to develop interdisciplinary research between the two arts. In this context, Ruffini is preparing a new volume on Dallapiccola and the Figurative Arts that will gather more than a thousand images and will be complemented by a DVD with all the films that have a musical soundtrack by Dallapiccola (two of which have been so identified and discovered by Ruffini – Incontri con Roma and L'esperienza del Cubismo). He was also responsible for intellectual component of an international congress on "Music and the Figurative Arts from the Renaissance to the Nineteenth Century" (May 2005), "Outlooks on the Organization of Musical Theatre in Italy" (Palazzo Vecchio, 29-30 April 2006), and "The Image of Italy in German Literature, Art and Music in the 19th and 20th Centuries" (21-22 September 2006).
In 2004 Ruffini hosted ten broadcasts on Luigi Dallapiccola, his life and works on the Italian national radio and television network (RAI) on the occasion of the centennial of the composer's birth (Radio Tre Suite). On Dallapiccola, who was born in Istria, Ruffini has published a large number of musicological essays, articles, interviews, radio and television programs, and program notes, and has also given papers in both Europe and the USA (University of California at Davis; Teatro Massimo Bellini in Catania; Fondazione di Studi di Storia dell'Arte Roberto Longhi in Florence, Milano Musica/Teatro alla Scala in Milan, Museo Revoltella in Trieste, Kunsthistorisches Institut in Florenz/Max-Planck-Institut in Florence, Arnold Schönberg Center in Vienna, as well as in Slovenia and Croatia. On the centennial of Dallapiccola's birth Ruffini spoke at Italian Cultural Institutes in San Francisco, Lisbon, and Vienna. He has also contributed to The New Grove Dictionary of Music and Musicians.
In 2005 Ruffini was entrusted with the "Fondo Carlo Prosperi" at the Archivio Contemporaneo "A. Bonsanti" in the prestigious Gabinetto Scientifico Letterario G.P. Vieusseux in Florence. In this context, Ruffini has published an imposing, 800 pages volume entitled Carlo Prosperi e il Novecento musicale da Firenze all'Europa, with a preface by Gloria Manghetti and an introductory note by Roman Vlad (Florence: Edizioni Polistampa, 2008).
Ruffini has published L'opera di Luigi Dallapiccola. Catalogo Ragionato, with a presentation by Dietrich Kämper (Milan: Edizioni Suvini Zerboni, 2002, 544 pp.). The volume was described by critics and musicologists as the most complete study ever dedicated to Dallapiccola's works and has quickly become the basic reference text on Dallapiccola. In 2005 Ruffini discovered a new musical composition by Luigi Dallapiccola, an orchestral arrangement of Barbara Strozzi's song Amor dormiglione. Ruffini has also published Il teatro musicale in Italia. Organizzazione, gestione, normative, e dati (Passigli Editori, 2007), a volume on Mozart on the occasion of the 250th anniversary of the composer's birth, and another on Ulisse di Luigi Dallapiccola, which follows on his many publications already on the figure of Ulysses. Ruffini has recently edited the volume Musica e arti figurative. Rinascimento e Novecento (Venice: Marsilio Editore), with contributions from some of the most eminent figures in the cultural and scholarly world, among whom Mina Gregori, Piergiorgio Odifreddi, Quirino Principe, and Giuseppe Galasso.
Ruffini has composed operas, symphonies, and chamber music, with special emphasis on music for children and collaborating with the likes of Roberto Piumini, Giorgio Albertazzi, and Arnoldo Foà. One of his first works, Immotus – mango silentio audire (1984), winner of a competition at the Conservatorio Cherubini, was first performed by the Orchestra della Toscana at the 48th Maggio Musicale Fiorentino and at the 38th Estate Fiesolana and in 2008 a film version was produced (directed by Massimo Becattini). In 2006, at the request of Max Seidel, he composed the Musiche per la mostra di Giuseppe Gavazzi at the Certosa of Florence. Ruffini has often collaborated Mario Luzi, who in 1998 dedicated a poem to him (Antigone), which he then set to music as Antigone e Savonarola. Dialoghi prigionieri. On 27 Januray 2005, just before his death Mario Luzi gave him a poem and five drawings by Luigi Dallapiccola to be included specifically in Ruffini's forthcoming volume on the the figurative arts.


Updated to 02/2009