Conductors
-
bio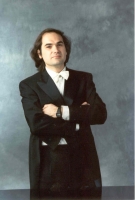 Born in Milano, Italy, he studied Classics and Philosophy at the local university in addiction to music studies in flute, violin, composition and conducting at the Milano Conservatory of music G.Verdi . He also attended chamber music studies with the celebrated Hungarian violinist and conductor Sandòr Végh at the Mozarteum in Salzburg, Austria.
Very young, he started his music activity as player by some of the leading italian orchestras and opera houses (La Fenice in Venezia, Teatro alla Scala e Orchestra Filarmonica della Scala , Radio orchestra in Torino) playing under the baton of conductors such as Abbado, Maazel, Ozawa, Muti, Bernstein, Giulini... At the same time developing his international career as a member of chamber ensembles, and as a soloist.
From 1989 to 1993 studied conducting with Peter Eötvös (in Vienna, Budapest, Bruxelles, Frankfurt, Amsterdam..) and was subsequently one of his assistents.
After this long apprenticeship, in 1994 decided to leave the orchestra devoting himself to conducting.
From 1992 to 1997 he was conductor of the ensemble Nuove Sincronie in Milano, leading hundreds of first performances, recording many CDs and appearing in several important European festivals of contemporary music (Musica Strasbourg, Radio France Presénces Paris, Wien Modern, Ars Musica Bruxelles, Ircam Agorà..).
From 1996 to 1998, after winning the international competition (Pierre Boulez president of the jury) was appointed Chef assistant of the Ensemble InterContemporain in Paris, where he had the chance to work with conductors such as Pierre Boulez, David Robertson, George Benjamin, Peter Eötvös, Markus Stenz, Jonathan Nott, and for most of the world leading composers such as Ligeti, Berio, Carter, Stockhausen, Grisey, Benjamin, Donatoni, Adams, Francesconi, Fedele ….) and to conduct the EIC in Paris and other european cities.
Since its foundation till today, R.Rivolta is the only Italian musician having been a member of the Ensemble Intercontemporain.
He collaborated to Stockhausen's Gruppen at the Salzburg Festival 1994 and at the Cité de la musique in Paris in 1998 (as Boulez assistent) , Ligeti's Grand macabre, still at the Cité de la Musique, Berio's Sinfonia in Bruxelles, Theatre de la Monnaie.
From 2000 to 2004 he was Guest Conductor of the Musica Nova Ensemble in Tel Aviv, made up of members of the Israel Philarmonic Orchestra.
From 1996 to 2003 at the Conservatoire National Superieur de Paris (CNSMDP) helding workshops, conducting masterclasses, recordings and concerts with its Orchestre des prix.
Since 2000 he is conductor of the Chamber Ensembles dell'Orchestra Giovanile Italiana ( Youth Italian Orchestra), held by the prestigious Scuola di Musica di Fiesole (Firenze).
In 2008 he was invited to conduct the inaugural concert of the Chamber Ensemble of the Accademia del Teatro alla Scala , and since then he collaborates with the Accademia on a regular basis.
Since 2009 R. Rivolta is Principal Conductor of Sinfonica - Orchestra della Valle d'Aosta, starting a new ambitious project on symphonic repertoire.
He currently heads the conducting course and the students orchestra program at the Accademia Internazionale della Musica di Milano.
He has conducted the leading European Ensembles such as Ensemble Intercontemporain, Ensemble Modern, Klangforum Wien, L'Itineraire, Netherlands Blazer and Nieuw Ensemble Amsterdam, Ex Novo, Edgard Varèse, 2E2M, Alter Ego, Endymion ensemble London, Israel Contemporary players and Musica Nova Tel Aviv, KNM Berlin, Tokyo Sinfonietta, MdI Ensemble, KammerensembleN Stockholm …..
…and orchestras such as Philarmonique de Radio France, Orchestra National de Porto, Orchestre National de Lyon, Orchestre de Besançon, Orchestra dell'Arena di Verona, Orchestra di Padova e del Veneto, Nouvel Ensemble Instrumental de Paris, Orchestre du Grand Théatre de Bordeaux, Sinfonia Varsovia, NordDeutscher rundfunk, National Radio Polish Orchestra, Sinfonia Varsovia, Warsaw Philarmonic, Gulbenkian Orchestra Lisboa…
He has performed for the most important istitutions and festivals such as Ars Musica Bruxelles, CDMC Madrid, Concertgebouw Amsterdam, Wien Modern at the Vienna Musikverein, Festival Archipel Gèneve, Musique d'au jourd'hui Lyon, Musique Strasbourg, Gulbenkian Foundation Lisboa, Festival Berio and Milano Musica, Festival Présences Radio France, Centre Pompidou, Ircam, Musée d'Orsay, Cité de la Musique in Paris, Berlin Konzerthaus, Tel Aviv and Jerusalem Philarmonic, Huddersfield festival, Vitasaari Festival Finland, Warsaw Autumn, Tokyo Festival , BBC London and Edinburgh, and many other.
In Italy he conducted at the Teatro alla Scala, Biennale di Venezia, Unione Musicale di Torino, Istituzione Universitaria dei concerti di Roma, Amici della Musica di Perugia e Firenze, Orchestra Toscanini di Parma, Società del Quartetto di Milano, I Pomeriggi Musicali, Sagra Musicale Umbra, Cantiere di Montepulciano, Orchestra Regionale Toscana, Orchestra del Teatro La Fenice di Venezia, Orchestra Giovanile Italiana, Festival Milano Musica, Sinopoli Festival di Taormina, Orchestra dell'Arena di Verona, Teatro Comunale di Firenze, Orchestra di Padova e del Veneto..
His concerts have been broadcasted from the italian RAI, the BBC, the Deutsches Rundfunk , Radio France, Polish Radio and most of the Western radio companies, including the Israeli.
He has recorded many CDs, the most recent one conducting I Percussionisti della Scala, including music by Cage, Varèse, Chavez, Stockhausen, Reich.
In 2011 will be published on CD the complete recording of Bruno Maderna's arrangements/ elaborations for orchestra of ancient music repertoire (Gabrieli, Frescobaldi, Pergolesi, Josquin de Prés, Legrenzi..). R.Rivolta will record this CD conducting the Orchestra Sinfonica della Radio Svizzera Italiana.
He has collaborated with outstanding musicians such as Kim Kashkashian, Tabea Zimmermann, Enrico Bronzi, Gabriele Cassone, Marco Blaauw, Alessandro Carbonare, Nicholas Hodges, Jean-Guihen Queyras, Quintetto Bibiena, Valdine Anderson, Pascal Gallois.
Among his last orchestra performances are: Beethoven – Coriolan ouverture, Mendelssohnn- Sinfonia 3 "Scottish", Shostakovich - Concerto N°1 per violoncello e orchestra, Webern-Langsamer Satz, Haydn-Trauer Sinfonie N°44, Stravinskij-Concerto in Re, Mahler - Kindertotenlieder, Berg-sonata op.1 (elaboration for chamber orchestra).
R. Rivolta is as well a composer: his compositions have been performed in Italy, France, Belgium, Finland, Israel, Portugal, United States.
Updated to 2010