Composers
-
bio
-
works
-
recordings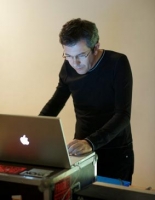 L'èpreuve du labyrinthe (1995)

Instrument: Conductor
Composer and producer born in Italy. Graduated from the University of Bologna. Composition studies with Aldo Clementi, Brian Ferneyhough, Niccolò Castiglioni. Additional studies with Sergiu Celibidache, Pierre Boulez and Leonard Bernstein.
Prizes: "Venezia Opera Prima" - Venice (Teatro La Fenice) 1981, "European Year of Music 1985" (Festival d'Automne Paris, WDR Cologne, Venice Biennale), "Franco Evangelisti 1986"- Rome, "Junge Komponisten Forum 1989" - Cologne, Trofeu Caymmi - Brazil 2004 (the cd "Brizzi do Brazil" as best recording of the year), Les Souffleur - Paris 2005 (the musical "Mambo Mistico" as "best music for theatre 2004-05").
Principal conductor of "Ensemble of Ferienkurse" in Darmstadt (1990-94) and Akanthos Ensemble (since 1992). Brizzi has also conducted the Santa Cecilia Chamber Orchestra of Rome, the strings of the Berlin Philharmonic, Bamberger Symphoniker, Orchestra Sinfonica Nacional de Mexico, Porto Orchestra, Caen Orchestra, Menhuin Foundation Orchestra, Bahia Symphonic Orchestra, Orchestra Haydn of Bolzano, Torino Philharmonic, Lisbon Metropolitan Orchestra, Israel Chamber Ensemble, Kreisler Strings of London, Ensemble Recherche of Freiburg, Ensemble Itinéraire of Paris, etc.
Commissions: Theatre National de Chaillot Paris, Hugo-Wolf-Akademie, Stuttgart; Orchestra Jazz-Sinfonica São Paulo-Brazil; Antasten Festival Heilbronn; Cesem, Lisbon; Gulbenkian Foundation; Istituto Svizzero, Roma; French Ministery for Culture; Radio France; SACEM; Festival 38e Rugissants of Grenoble, Donaueschinger Musiktage; Royaumont Foundation; ASAFRA Paris; Town of Bielefeld.
Performances: His music has been performed by, among others, the strings of the Berlin Philharmonic, The European Union Youth Orchestra, Bamberger Symphoniker, Baden-Baden Radiosymfonieorkester, Orchestre Philharmonique de Radio France, Arditti String Quartet, etc.
Consulted and worked with Ennio Morricone and Giacinto Scelsi.
Conducted works by Giacinto Scelsi which were recorded for Salabert/Harmonia Mundi ("Superchoc de Le Monde de la Musique 1990") and INA/mémoire vive ("Diapason d'or 1993").
Opened the World Music Days '93 with a concert on the Teotihuacán Pyramids, Mexico.
In 1998 released the CD "The Labyrinth Trial" (Rara Records).
Multimedia Concert "The Labyrinth Trial" (music, dance, video, light design), directed by the composer, Rome, Madrid, Acqui Terme, Bruxelles, Porto, Salvador Bahia, São Paulo (1998-2000)
Stage Music for "Le frigo", by Copi, Palais de Chaillot, Paris '99 (Prix Molière) and for "Les Bonnes" by Jean Genet, Theatre de l'Athénée, Paris '01 (both directed by Alfredo Arias)
In spring 2000 Aldo co-produced the double album "Cristal" of Ala dos Namorados (EMI); "Golden Disc" in Portugal
Music director and original soundtrack for the film "Trommler Tänzer Götter" by Georg Brintrup, produced by WDR & TVE, 2001
Music director of Virginia Rodrigues tour, Italy 2001
Orchestra arrangements for Arnaldo Antunes and Zeca Baleiro, 2002
In 2002 released his second CD: "Brizzi do Brasil" (Eldorado Brasil/Sony; Brazil only). Songs of Aldo Brizzi interpreted by Caetano Veloso, Gilberto Gil, Teresa Salgueiro, Tom Zé, Carlinhos Brown, Arnaldo Antunes, Virgínia Rodrigues, Margareth Menezes, Augusto de Campos, Ala dos Namorados and Olodum.
December 2002 - world première of "Endless Trails" at the 38 Rugissants festival of Grenoble, France and at the World Social Forum Bombay 2004. Cycle of pieces of sacred music for Neela Bagvath (Indian singer), Wimme Saari (Sami singer), Trio d'Argent (flute trio), Terra em Transe (percussion), electronics, surround 7.1 & light design.
2003 - live performance tour of the CD "Brizzi do Brasil" with the group "Aço do Açúcar" and special guests including Caetano Veloso, Arnaldo Antunes, Margareth Menezes, Zeca Baleiro and Virgínia Rodrigues.
2003 concert tour and CD recording with Ala dos Namorados and Orquestra Metropolitana of Lisbon (as arranger and conductor).
2004 - International release of "Brizzi do Brasil" (Amiata Records). The track "Mistério de Afrodite" was selected from the A. Hepburn Foundation for the Unicef compilation 2005.
2004 tours and radio program in Brazil and Europe with the group "Aço do Açúcar", with a new show directed by Marcio Meirelles.
2005 release of the CD "Aço do Açucar"
In 2005 world première of "Mambo Mistico" musical by Alfredo Arias, Gonzalo de Maria and René de Ceccatty, music by Aldo Brizzi. Coproduced by Theatre de Chaillot - Paris, Maison de la Culture - Nantes and Theatre du Gymnase - Marseille featuring Alfredo Arias, Marilù Marini, Raul Paz, Sandra Rumolino, Jacques Hourogné, Alma Rosa, Giorgio Faelli, Reis and Aço do Açúcar.
In 2006 Madredeus vocalist Teresa Salgueiro releases the album "Obrigado" (platinum disc in Europe) with two tracks composed by Aldo Brizzi (EMI Portugal).
2007 opens the International Book Fair at Cairo Opera House with Reis, Eugenio Bennato and Cairo Opera Orchestra.
2007 Americal and Europe "Reis" tour, a concert for voice (Reis) and electronics.
2008 Aldo works on new Adriana Calcanhoto album
Since 1999 Aldo lives in Salvador Bahia, Brazil.

Updated to 01/2010