Projects
-
bio
-
works
-
recordings
-
projects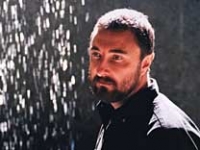 Quadro (1993)
for string quartet and tape
Quartetto Arianna

Cipriani completed his studies in music composition and electroacoustic music at the Conservatorio S.Cecilia in Rome. He studied with Barry Truax in Vancouver, (Canada). He attended the School of Sound in London (Walter Murch, Dogma 95, etc.) and is presently deepening his interest in the relation between sound and image in the digital domain. Since 1989 he has worked on intermedia pieces and audio-video multichannel and interactive installations, often in collaboration with visual artist Alba D'Urbano and director Giulio Latini, and on pieces for instruments and tape. More recently he has composed electroacoustic pieces with traditional religious singers and soundtracks for creative film-documentaries and silent movies, integrating an advanced concept of fusion between dialogue, sound environment and music, including soundtrack of "The Cabinet of Dr.Caligari" (1919), the expressionist masterpiece by Robert Wiene, in collaboration with Edison Studio composers.
His works have received honors and have been selected for performance by government arts commissions, professional organizations and festival organizers including Bourges, Government of Canada Award, International Computer Music Conference 1994, 1995, 1999, 2002, 2003, International Symposium on Electronic Arts, Musica Nova (Praha), Newcomp (U.S.A.), Memorie Sonore (Stockholm - Sweden), Inventionen (Berlin), Nuova Consonanza (Rome), Festival di Ravenna, Engine 27 (New York), Musica Verticale (Rome), Festival International de programmes audiovisuels-Biarritz, Mip'Doc-Cannes, Thessaloniki Documentary Festival, Festival Mix-Brasil, Torino Film Festival, Pesaro Film Festival, AsoloArt Film Festival etc. He has been tenured professor of electroacoustic music at the Conservatory of Catania (Ist. Mus. V. Bellini) from 1995 to 2003 and at the Conservatory of Frosinone (Rome) since November 2003. A compilation of electroacoustic pieces by his students from Sicily has been recently published on EMF label. He has taught and lectured about his music and his theory of 'electroacoustic tradition' at several Academies (Sibelius Academy - Helsinki, Accademia S.Cecilia- Rome etc.) and Universities in Europe, Canada and the U.S. (Simon Fraser University - Burnaby B.C., Californian Institute of the Arts (Los Angeles), University of Rome "Tor Vergata, University of California - Santa Barbara, Univ. of Catania, University of North Texas, University of Iowa, MedienKunst Dept. of Hochschule für Grafik und Buchkunst, Leipzig, etc.). He has published analytical and theoretical papers in several journals (Organised Sound, Musica/Realtà, etc.) and has published the textbook "Virtual Sound", on sound synthesis and signal processing with Csound (in collaboration with R.Bianchini on ConTempo) adopted for computer music courses in various Universities and Conservatories in Europe, South and North America, and now being re-written for Max-MSP software in collaboration with M.Giri.
His CD "Il Pensiero Magmatico" in collaboration with StefanoTaglietti is available on Edipan label. Other pieces can be found in the International Computer Music Conference '95 and ICMC'99 CDs. A monographic CD, "Al Nur", including all his works with oral tradition musicians and his trilogy on religious chant, was released on CNI Compagnia Nuove Indye in 2001. Computer Music Journal selected one of his multi-channel pieces (in surround 5.1) to be included in the annual DVD in 2003, released on CMJ 27 (4). A piece written for Iranian percussionist Mahammad Ghavi Helm has been published on CNI-RAI Trade label in 2006. A 5.1 piece on DVD has been released in 2007 on Everglade Records (USA) and an acousmatic piece on XXI Musicale - Elettronica Italiana Vol.2. His music has been broadcast by RAI, CBC and several other national radio networks as well as performed at festivals in Europe, China, South-America, Canada, and the U.S.A. He is one of the founding members of Edison Studio in Rome. He is also member of the Editorial Board of the review Organised Sound (Cambridge University Press).
Updated to 01/2007