Instrumentalists
-
bio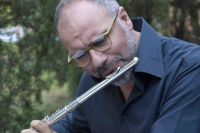 Instrument: Flute
He was graduated in 1988 from the Conservatory of Santa Cecilia in Rome, Italy.
He is very active as performing flautist in Italy and abroad (Todi Festival 95, Teatro Vittorio Emanuele in Noto 99/2000, Teatro & TD Zagabria [Croazia] 99/2001, Palermo di Scena Festival 97/2000, Italian Embassy in Abu-Dhabi [United Arab Emirates] 2001, "Lisinski"Auditorium, Zagabria[Croazia] 2003, Italian Cultural Institute, Los Angeles [U.S.A.] 2003, Arizona State University, Scottsdale Phoenix [U.S.A.] 2003, Ortigia Festival 2003, Italian State Recording Archives 2006, Opera Festival 2006/07, Melbourne Italian Festival 2007 [Australia], IV Rioharp Festival 2009 Rio de Janeiro [Brazil], 46th Festival Nuova Consonanza '09.
His recording credits include: the cd's Mediterranea (1999) and Thalassa (2001) where he was both solo flautist and composer, and in 2005 he recorded the cd "Due fauni, arco e pizzicato" with the Ensemble Colosseum as first solo
In 2007 he has recorded his CD "Al muhda ilayy" (pieces for solo flute and flute and harp dedicated to Calogero Giallanza), produced by "Stubborn Music Workshop" with the contribution of IMAIE.
He has recorded for RAI 2 Television, Vatican Radio, and Interactiv.
His performances have been passed on Radio – RAI Filodiffusione, Rai International.
He is the Artistic Director of the 'Ostinati' Musical Workshop which specializes in the research and experimentation in the relationship between music and word.
In 2004 he figured as protagonist in the documentary film "Favola del Vento e del Mare" by Pierpaolo Gandini, for which he has written and recorded the soundtrack. This documentary, produced by the SD cinematografica for Italian and International Television, passed on Italian Television - Rai 3 (Rubrica Geo & Geo) and Swiss Television – RTSI. In 2009, he won First Prize of the 3rd edition of IMAIE competition with his CD "Al muhda ilayy"
Updated to 02/2013