Instrumentalists
-
bio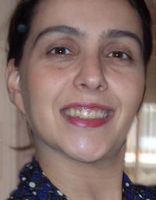 Instrument: Piano
Italian composer, born in 1973, started her musical studies very early. She studied Piano in Turin and Composition at Alessandria Conservatory under Paolo Ferrara. After completing her studies, she continued her composition training in Turin with Daniele Bertotto and also at the Romano Romanini Foundation in Brescia, pupil of Mauro Bonifacio and later in Siena, at the Chigiana Academy, gaining the specialization degree. In 2003, she studied in Rome, at the Santa Cecilia Academy, where she obtained her advanced degree, with honour, attending the class of Azio Corghi. She won a lot of international composition awards. Among these, the Paolo Borsacchi Composition Competition for guitar, the MusicaeArte for soprano snd orchestra, the Felice Quaranta Prize for ensamble and the Belveglio Competition for Sacred Music (1st winner), the Michele Pittaluga Competition for chamber music with guitar, the ICOMS International competition for ensamble and the Egidio Carella Award for ensamble (2nd winner).
In 2003, she was the winner composer of the 1st International Composition Competition "Settimane musicali di Stresa" for orchestra, with "karumi kana", work played by RAI Simphony Orchestra, conductor Gianandrea Noseda.
She also obtains many special prize. Among these, the Honorary Prize in Alfredo Casella Composition for orchestra, the Honorary Mention in Lopes Graca Competition, the Special Mention in DGF Composition Competition for guitar and the Honorary Special Mention in IBLA Foundation Competition.
Her works have been played in important theatres. Among these, in Rome at the "Parco della Musica" Auditorium and the Santa Cecilia Academy Hall, in Turin at the Regio Theatre and at the "La Stampa" Hall, in Siena at the Rozzi Theatre and the Chigiana Academy, in Alessandria at the Town Theatre, in Milano at Palazzina Liberty, in France at the Joviac Residence and in Athens at The University of Georgia.
Since 2002 she is Harmony teacher at the Puccini Conservatory in Gallarate.
Updated to 04/2010