Instrumentalists
-
bio
-
works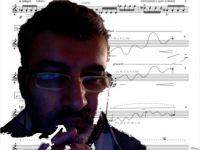 The answer to Guido(2010)
five sketchs for bass-clarinet

...Ed_io_sto_al_centro (2007)



Instrument: Double bass
Enrico Francioni has achieved degree in double-bass and in electro-acoustic music at the Conservatorio "G.Rossini" of Pesaro. We mention among his teachers: F.Grillo, E.Laine, F.Petracchi, W.Stert, B. Tommaso for the double-bass and E.Giordani for the electro-acoustic music. Followed the masterclass of W.Branchi, L.Camilleri, J.Chadabe, D.Monacchi, A.Petrolati and A.Vidolin.
As soloist, he was rewarded in different national and international competitions (Stresa, Genova, Ancona, Fivizzano).
He interpreted in World Premiere (Firenze-1988 and Cagli-2010) the Suite I for solo double-bass (Edition Schott – dur. 43') composed by F.Grillo; he followed the composition in the creative stages, agreed with the author.
The its you works they were selected, performed and spread by: Oeuvre-Ouverte (IMEB, Bourges-France), Cinque giornate per la Nuova Musica (Fondazione Mazzotta, Milano-Italy), Il Suono aperto (LEMS, Pesaro-Italy), Festival Villa e Castella 2008 (Pesaro-Italy), FrammentAzioni and Taukay Web Radio (TEM, Udine-Italy), XVII C.I.M. (AIMI-IUAV-LaBiennale, Venezia-Italy), VoxNovus 60x60: InternationalMix, UnTwelveMix (International), Emotions-Out Of Range (Frontone-Italy), EMUfest 2009, 2011 (Roma-Italy), ICMC 2010
(NYC), BASS2010 (Berlin-Germany) and LUCCAdigitalPhotoFest 2010 (Lucca-Italy), First International Csound Conference 2011 (Hannover-Germany), Le notti ritrovate 2011 (Avellino-Italy).
He has collaborated with Rossini Opera Festival, Accademia Bizantina, Orchestra Sinfonica RSM, Orchestra Filarmonica Marchigiana, Orchestra Maderna, Orchestra Sinfonica Rossini and from 1986 to 1988 had been double-bass player in the Orchestra Sinfonica "J.Haydn" di Bolzano e Trento.
Self-taught composer, he is author of instrumental chamber music, musical theater, electro-acoustic music, educational music and essays (Csound Journal, Edipan, EurArte, Mondo Sonoro and Wicky).
As composer, he was rewarded in national and international competitions ("E.Carella" Val Tidone-PV, "Città di Pavia" Pavia, AGIMUS Varenna-LC, Padenghe sul Garda-BS, "A.Manoni" Senigallia-AN, "Le note ritrovate" Avellino).
He was author and promoter of various musical events in the Provincia di Pesaro e Urbino. He has recorded for Dynamic, Agorà, Orfeo, RSI, RAI, Taukay, Twilight Music, Edizione Discografica Cappella Sistina, Produzione ROF, Agenda, La Greca Production and Classic Studio.
He was double-bass teacher at Conservatorio "G.Rossini" of Pesaro and he's involved in several educational music activities.

Updated to 02/2012