Instrumentalists
-
bio
-
recordings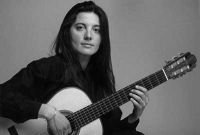 Elena Casoli - Biography
Milano, 1962
Instrument: Guitar
Elena Càsoli, active for several years on the national and international concert scene, presents a variegated and multi-faceted image of her instrument through -in addition to the baroque and classical authors guitar literature, also performing on an original Luis Panormo 1846 Guitar - the guitaristic experimentalism of the "New Music", collaborating with composers, performing her concerts on classical and electric Guitar, taking part in theatrical and multimedia events.
Elena Càsoli graduated in Guitar at "G. Verdi" Conservatoire with highest marks, first-class honours and "special mention" after studying with R. Chiesa and attended to O. Ghiglia 's masterclasses at the Accademia Chigiana in Siena.
She has won prizes in both national and international competitions ("F. Sor" Roma 1989; "A. Segovia" Madrid 1989, Kranichsteiner, Darmstadt 1988); she performs around all Europe as soloist (Tokyo '97, Liverpool, Manchester '98, De Jisbreker '98, Syntèse-Bourges '99, Wien Modern 2000, AdK-Berlin 2000) and with orchestras (Maggio Musicale Fiorentino, Chamber Orchestra of Europe, Berliner Philarmonisches Orchester, Mahler Chamber Orchestra), in duo with J. Ruck (Wien Modern '95, Accademia Chigiana '96, Darmstadt '96, Madrid '98, Münchener Biennale '99, Musikakademie Basel 2001) and in collaboration with music ensembles like Ensemble Modern-Frankfurt and Divertimento Ensemble-Milan, and orchestras like Teatro alla Scala Orchestra-Milan, Toscanini Orchestra-Parma, Teatro Regio Orchestra-Torino; Elena Càsoli also collaborate with live-electronics and computer music studios like Studio Agon-Milan, Tempo Reale-Florence, FMyT-Buenos Aires, Cemat -Rome.
She has given masterclasses in Italy, Sweden, Germany and Argentina; moreover she constantly collaborate with "Il Fronimo", the musicological Italian Guitar review.
She has realized recordings with RAI, CGD, SWR, RadioFrance, DBR, and CD productions with RivoAlto/Suvini-Zerboni (dedicated to M. Giuliani), with Dabringhaus&Grimm (new Henze's music for two guitars), with BMG-Ricordi (as soloist in "Orfeo cantando...tolse" by A. Guarnieri), Stradivarius (Maderna) and LArecords.
Elena Càsoli took part in music operas and theatrical events in collaboration with C.R.T.-Milan (M.Pisati "Umbra" 1988), Teatro alla Scala-Milan (Donatoni "Il velo dissolto" 1993), Cantiere Internazionale-Montepulciano (Guarnieri "Orfeo" 1994) Salzburg Oster Festspiele (A. Berg "Wozzeck" 1997, C. Abbado, Berliner Philarmonisches Orchester); since 1994 she performed "Grabstein für Stefan" by G. Kurtag for guitar and orchestra at Festival Musica '94-Strasbourg, Radio France-Paris '94, Biennale Musica-Venezia '95, Maggio Musicale-Florence '96, Ferrara Musica '99, Settembra Musica-Torino 2001.
In '98 she took part in a tournée with the Chamber Orchestra of Europe, in a project dedicated to B. A. Zimmermann, she has been guest at Festival de Musica Electroacustica in Còrdoba and Buenos Aires and at International Guitar Festival of Great Britain. On January '99 she had a concert tour in Japan, guest at Theatre Winter Festival in Tokyo.
In 2001 has been realized a monographic video on Elena Càsoli by regisseur Gianni Di Capua,with music by S. Reich, M. Tadini, M. Pisati.
On December 2000 she has collaborated with John Adams, Deutsche Symphonie Orchester-Berlin and Kent Nagano, at world premiere of "El Nino" at Teatro Chatelet in Paris. On February 2001 she has performed in Milano the Terzo Concerto by Ennio Morricone for guitar, marimba and orchestra and on September 2001 "Grabstein für Stephan" by György Kurtag with RAI National Orchestra in Turin.
Updated to 02/2010