Instrumentalists
-
bio
-
repertoire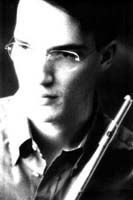 Mario Caroli was born in Italy in 1974. He received a deep influence by the flautist Manuela Wiesler and he came to fore on the international scene at the age of 22, when he won the "Kranichsteiner Musikpreis" in Darmstadt. He has since enjoyed a highly successful career as a solo flautist.
Habitué of both the classics of the flute and the most dense and extreme pages of the repertoire, Mario played under the baton of Pierre Boulez, Peter Eötvös, Heinz Holliger, Emilio Pomarico, Oswald Sallaberger, soloist in the world's main musical institutions (including Berlin Philarmonie, Wiener Konzerthaus, Lincoln Centre in New York, Oji Hall in Tokyo, Teatro alla Scala in Milan, Centre Pompidou in Paris) as a guest artist of the biggest festivals. His recordings and recitals excite admiration by the international critics: "Dazzling technique, magnetic presence" ("The New York Times", New York), An interpreter whose possibilities are boundless (…) Mario Caroli doesn't let no detail go by without making it release all the meaning it carries" ("Le Monde de la Musique", Paris), "The range of colour and texture that the remarkable and young flautist Mario Caroli obtains with his flute is hauntingly beautiful" ("The Guardian", London), "The flute, fantastic in its ease and eloquence, of Mario Caroli" ("Diapason", Paris), "Mario Caroli is one of the most extraordinary flautists of today" ("Scherzo", Madrid). Salvatore Sciarrino didn't hesitate to qualify him as a "Paganini of the flute" and György Kurtág said about him: "He is one of the biggest interpreters I have ever known". Certain events in the life of contemporary music are necessarily linked with Mario Caroli's activity, specially premieres of new pieces. Mario has worked with many celebrated composers, such as Fedele, Gervasoni, Kurtág, Yuasa and, very particularly, Sciarrino, who have dedicated their works to him. Since september 2000, Mario is the flautist of the "Accroche Note" Ensemble. Mario gives each summer a flute masterclass during the "Akiyoshidai international contemporary music seminar & festival" in Japan and he teachs the flute in the Conservatoire National of Strasbourg, where he actually lives. At the age of 23, Mario graduated in philosophy, summa cum laude, with a thesis on Nietzsche's "Der Antichrist".
Updated to 07/2004