Composers
-
bio
-
works
-
recordings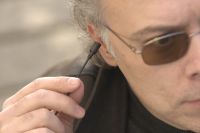 photo Kai Bienart
INSTALL QRTT (1998)
for string quartet, Kyma and environmental resonances

Agostino Di Scipio is a composer, sound artist, researcher and scholar (born in Naples, 1962). As a high-school student, he started as an electric-guitar player, but quickly moved to more adventurous performance practices and techniques. At about the same time, he became involved in computer programming. At Istituto Universitario Orientale, in Naples, he studied modern languages, literature, and theatre theory (at the time, he was occasionally involved in sound for experimental theatre). Later he attended music programs at Conservatorio di Musica in L'Aquila, eventually graduating in Electronic Music (cum laude) as well as in Composition (in L'Aquila he studied with a.o. Michelangelo Lupone, Giancarlo Bizzi and Mauro Cardi). As a student, he also attended Computer Music classes at Centro di Sonologia Computazionale (University of Padova, where he met with composers James Dashow, Roberto Doati and others). Since the late 1980s his work includes electroacoustic music compositions, works for instrumentalists and electronics, and sound installations. His personal approach, based on unconventional sound synthesis/processing methods, often addresses phenomena of noise and turbulence. Di Scipio has initiated a seminal creative path researching the "man-machine-environment" feedback loop (e.g. the live electronics solo works Audible Ecosystemics and a number of room-dependent sound installations). Today Di Scipio works primarily in his own studio, in L'Aquila, and occasionally joins international production facilities and residency programs.
Despite the uncompromising and independent approach on sound, technology and composing, in the early 2000s Di Scipio's work gained international attention. International meetings have taken place, bearing on his work and related theoretical and research implications, at the Universitè Paul Valery, Montpellier (February 2010), at the Universität der Kunste, Berlin (2011) and the international symposium "Musique et ecologies du son", Université Paris VIII (2013). In August 2013, Di Scipio was invited to deliver the opening keynote address at the International Computer Music Conference (Perth).
Di Scipio's compositions have been presented both in academic venues (e.g. Wienersalle Salzburg, KonzertHaus Berlin, KonzertHaus Wien) and more experimental circles (Podewil/Tesla, Berlin; Dissonanzen, Naples; Independent Media Center, Champaign/Urbana, Illinois; Linux Audio Conference, ZKM Karlsruhe and TU Berlin; MUHKA Antwerpen; Ibrasotope Sao Paolo do Brasil; La Sala Rossa Montreal), and have been featured in several international festivals - including the Warsaw Autumn, the Venice Biennale, Inventionen (Berlin), Ultraschall (Berlin), Synthése (Bourges), SMC (Lausanne), the Int'l Computer Music Conference (Banff, Berlin, Thessaloniki, Perth), League of Composers (New York), Transit Festival (Leuven), Musica Viva (Coimbra and Oeiras, Portugal), Çağdaş Müziğin Ustalari (Istanbul), Int'l World Music Days (Stuttgart), Int'l Society of Electronic Arts (Montreal), Ars Musica (Brussels), MusikTriennale (Köln), Archipel (Geneva), ElektroKomplex (Wien), Contemporanea (Rome), Foro Internacional de Música Nueva (Mexico City), Milano Musica Festival, Angelica (Bologna), Sonorities (Belfast), Extensions (Paris), etc. His sound art solo exhibition sound. self. other took place at the Galerie Mario Mazzoli, in Berlin (March-May 2011).
Larger scale works, conceived as poetry reading + sound and electronics, include Sound & Fury (2 actors, 2 percussionists, electronics, slide projection; staged first in Evora, Portugal, 2000, and then in Venice, 2002); and Tiresia, composed together with poet Giuliano Mesa, first presented in L'Aquila (2001) and later in Rome (2003) and Berlin (2005), also in collaboration with artist Matias Guerra. Since several years, a new larger-scale project is in progress (running title Risorse Umane, i.e. Human Resources), but has not yet been finalized for performance.
Two CDs of Di Scipio's music have been released, Hörbare Ökosysteme. Live-elektronische Kompositionen (RZ Edition) and Paysages Historiques (Chrisopee Electronique). Separate works are featured in CD and DVD anthologies released by various labels including Wergo, Neuma, Capstone Records, Cavalli Records, Et'cetera/Olive Music, Synesthesia Recordings. Others are circulated through CD releases of ZKM/Neue Zeitschriften fur Musik (Schott Edition), ORF-Ars Electronica (Linz), NoteWork (Köln), ICMC (Berlin/ICMA 2000, Barcelona/ICMA 2005), 12th Root (Toronto), Bug Records (Melbourne), and the Computer Music Journal Sound Anthologies (MIT Press).
Di Scipio is active as a performer, not only of his own music. He plays duo with pianist Ciro Longobardi (they realized a new, large-scale version of Cage's Electronic Music for Piano, released on Stradivarius Records). In 2011-12 he was part of the Upset radical eletroacoustic impro project with saxophonist Mario Gabola (they released the Upset CD on ViandeRecords, Naples).
Resident artist of the prestigious DAAD Künstlerprogramm, Berlin (2004-05), and guest composer at IMEB, Bourges (2003 and 2005), ZKM, Karlsruhe (2006 and 2013), University Paris VIII (2013), CCMIX Centre Creation Musicale Iannis Xenakis, Paris (2001) and many other institutions and festivals. In earlier years Di Scipio pursued computer music researches at Centro di Sonologia Computazionale, Università di Padova (several times 1988 - 1992) and was offered international scholarships, which led him to work at Simon Fraser University (Dept. of Communication, Vancouver, 1993, with a scholarship of the International Council for Canadian Studies, Ottawa, and the Ministero Affari Esteri, Rome) and at Sibelius Academy (Helsinki, 1995, with a scholarship of the Finnish Ministry for Foreign Affairs).
Di Scipio served as full-time Electronic Music Professor at the Conservatory of Naples, since 2001-2013. Today he's professor in Electroacoustic Music Composition at the Conservatory of L'Aquila. He served as Edgard-Varése professor at the Technische Universität Berlin (Winter semester 2007-08) and has lectured in live electronics at the Centre Creation Musicale Iannis Xenakis (CCMIX), Paris (2000 - 2007). He lectured at Université Paris VIII (2013), IRCAM Paris (2013), Queen's University, Belfast (Dept. of Sound Arts) (2013), University of Illinois, Dept. of Music, Urbana IL (2004), Conservatory of Bari (1994 - 2001), Summer School in Computer Music, Zagreb Academy (1999), Technische Universität, Berlin (2004 and 2005), Johannes Gutenberg-Universität, Mainz, Summer School "Media and Beyond" (2004), Conservatorio di Musica, Venezia (2005), Kunst Hochschule für Medien, Köln (2005), University of East Anglia, Norwich (2006), Conservatorio di Musica, Trieste (2008), Conservatorio di Musica, Como (2009), Conservatorie de Musique, Boulogne/Paris (2011), Orpheus Institut, Ghent (2012), Conservatorio di Trento (2012), Edith Cowan University, Perth (2013).
Di Scipio's writings are largely devoted to issues concerning the methods and the history of musical technologies, also in conjunction with broader socio-cultural and cognitive implications, and had a significant impact on many artists and researchers (his researh work has been quoted in a wealth of scientific and technological publications worldwide). A collection of his writings has appeared with the title Pensare le tecnologie del suono e della musica (Editoriale Scientifica, Napoli, 2013). He contributed scholarly essays to numerous international journals a.o. Journal of New Music Research, Computer Music Journal, Contemporary Music Review, Leonardo, Perspectives of New Music, Organised Sound, Positionen, Intellectica, Angelaki - Journal of theoretical humanities (Carfax Publishing), La Revue d'Esthetique (Paris). Italian publications featuring his writings include Enciclopedia delle arti "I portatori del tempo" vol.2 (Electa), Rivista Italiana di Musicologia, Musica/Realtà, Il Saggiatore Musicale, Sonus, and others. Di Scipio also contributed chapters to several volumes a.o. Electroacoustic Music Analytical Perspectives (Greenwood Press), Musica e tecnologia domani (LIM/Ricordi). He served as editor for the Italian translation of volumes such as Gottfried M. Koenig's Genesi e forma. (Semar, 1995), Michael Eldred's Heidegger, Hölderlin & John Cage (Semar, 2000) and Iannis Xenakis' Universi del suono (LIM/Ricordi, 2003). Editor of the volume Teoria e prassi della musica nell'era dell'informatica (G.Laterza, 1995). In 2004 he was guest editor of the Journal of New Music Research for a monograph issue on Xenakis. In recent years, together with former students in Naples, he started Le Arti del Suono, a small, independent review on the sound arts.
Updated to 01/2014