Composers
-
bio
-
works
-
recordings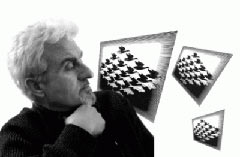 Progetto Sincretico
for 5 strings
© Ricordi - Fonit Cetra

Rocco Abate born at Oriolo (Cosenza) in 1950, moved to Milan in 1964 to continue the musical studies he had begun at a very early age. He entered the "G. Verdi" Conservatory where, under the guidance of Daniela Ciliberti and B. Martinetti, A. Turriani, Alberto Soresina and Bruno Bettinelli, he obtained his diploma with maximum marks in flute, band orchestration and composition. In 1982 he followed Franco Donatoni's specialization course for composers at the Accademia Chigiana of Siena, obtaining the merit diploma; he also attended seminars and course held by Sciarrino, Ferneyhough, Carter, Dufourt, Henze, Grisey, Nunes, Murail and Stockhausen.
His first compositions which for their quality go well beyond scholastic exercises, date from the end of the Sixties.
In 1975, while still a student, one of his compositions for orchestra was chosen for inclusion in the concert season of the Teatro Angelicum. From that moment his musical production expanded rapidly, ranging from pieces for solo instrument (with live electronics) to those for chamber groups (trios, quartets, quintets, sextets, septets, octets, instrument and piano), for chorus, for orchestra and for the theatre (he is currently completing an opera to a libretto by B. Pedretti).
The following are a few of his more important compositions:
Sol'o for orchestra, commissioned by Angelicum (conductor Umberto Benedetti Michelangeli jr.), repeated by Teatro La Fenice (conductor Giampiero Taverna) on the occasion of the "Venezia Opera Prima" Festival. Tropie for string quartet, awarded the "L'ulivo d'oro 1982" at the Imperia Festival as the best work in first world performance and recently included in a record made by the Quartetto Nuova Cameristica. For Piano Time for piano, commissioned by the periodical of the same name and played by the American pianist James Avery in a live broadcast on RAI 3. Sei Bagatelle, commissioned by "Musica nel Nostro Tempo" and performed by the prestigious Arditti String Quartet of London. Pagine Sinfoniche, omaggio a Rossini, commissioned by Angelicum, which after the successful debut at Milan was performed in France by the Orchestre Symphonique de Mulhouse (conductor Luca Pfaff) and highly acclaimed both by public and press. Dust for piccolo, awarded the Diploma di Merito by Franco Donatoni and included (on the recommendation of Donatoni himself) in the programme of the Festival d'Automne at Avignon. Chronos et Mnemosyne, octet commissioned by CARME and subsequently developed into R.E.Q.U.I.E.M. for orchestra which was premiered at Bucharest by the Romanian Opera Orchestra (conductor Adriano Martinolli). Progetto Sincretico and Danze per Veronica, two compositions presented at the festivals "Musica Presente" and "Musica Presente in Europa" organized by Milan's Teatro alla Scala with the artistic direction of Luigi Pestalozza
In 1995 Abate was in Paris (selected, with 9 other composers, from 200 candidates from all over the world) for the stages of Informatique Musicale held by IRCAM at the Centre Georges Pompidou.
His compositions are published by Ricordi, Rugginenti and Edipan and are performed in various parts of the world: England, Spain (also Spanish Radio), Portugal, France (also French Radio), Switzerland, Romania (also Romanian Radio), Germany and the USA. His works have been recorded by Ricordi, Fonit Cetra, Rusty Records, Edipan, CD NODIA.
Invited to sit on the scientific committee of Centro Culturale Rondottanta since its foundation, he was responsible for the music sector and also participated in the general programming for the ten-year period 1980-1990.
He has organized concerts, conferences, round tables, Meetings with the Composer involving concert artists like Massimiliano Damerini, Gabriella Ravazzi, Roberto Fabbriciani, Ciro Scarponi, Joan Logue, Ex Novo Ensemble, etc. and composers like Franco Donatoni, Giacomo Manzoni. Salvatore Sciarrino, Niccolò Castiglioni, Bruno Bettinelli, Renato Dionisi, Armando Gentilucci, etc.
In 1988 he proposed and planned an Ampitheatre (entitled "Conchiglia") attached to a Liceo Musicale Sperimentale and an Accademia di Alto Perfezionamento; today the ampitheatre exists while the Academy will be opened shortly. At present he is responsible for the artistic direction at the Assessorato alla Cultura of Sesto San Giovanni (Milan).
One of his works of visual art appears in the book "Eros Ramazzotti Emozioni Visive", published by Mondadori, accompanied by a definition of his activities : "....Composer, writer on art, language and society, he dedicates himself to visual arts with curiosity, playfully, instinctive but also methodical, investigating the expressive multiplicity of creative forms". In this spirit he has written presentations and reviews of picture exhibitions, overseen productions and installations, composed pieces of music expressly for the exhibitions of G. Luggi, G. Barbanti, M. Festa, M. Magrini and others, signed the scenography for the play "La Cella" by Tiziana Fumagalli.
His writings have appeared in various publications, including "Laboratorio Musica" (director, Luigi Nono), "Musica/Realtà" (director, Luigi Pestalozza), "Progetto Musica" (director, Massimo Berzolla), "Confini" (director, Paolo Lezziero), "Il Pasquino Musicale" (director, Renzo Cresti), "Musica Viva" (director, Lorenzo Arruga).
In addition he has collaborated with poets like Giò Ferri, Ermanno Krumm, Andrea Zanzotto, Folco Portinari, Luci De Marchi, Dacia Maraini, Claudio Angelini, Antonietta Dell'Arte and the sound poet Giuliano Zosi.
Updated to 12/2013