Composers
-
bio
-
works
-
recordings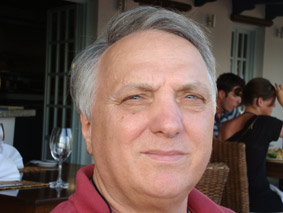 Preludio alla notte
for flute
© Ricordi - Fonit Cetra

He completed his musical education at Bologna Conservatory, obtaining a diploma in composition with Giacomo Manzoni and in choral music with Tito Gotti. He also started to conduct, founding the Nuovo Ensemble "Bruno Maderna" in Florence; subsequently he has devoted himself entirely to composicion. He taches composition at Milan Conservatory, having previousely done so at Florence and pesaro Conservatories.
His first works, from Musica per un'azione immaginaria to L'art pour l'art?, display traits that are at first structuralist and then informal, of "post-Darmstadt" stamp, with gestural influences and a quest for graphic qualities that go beyond music.
A turning-point is reached with Nafshi, recit and other compositions, with greater attention being directed to form, which is no longer seen as a structural actuality but as the synthesis of an episodic multiplicity in a state of becoming. The Pierrot series begins a phase characterized by the quest for a sort of "cantabilità materic" (songmade-substance"), within which a "melodic" result takes shape, the outcome of a contrast of lines and texture over fixed harmonic agglomerates. The function of the interval is reduced to a minimum and the texture are refracted echoes and octave reverberations to several melodic ideas, generating a vast kaleidoscope of timbres. In the opera Trionfo della notte (1985-86, staged at the Teatro Comunale di Bologna in the 86/87 season and awarded the Abbiati Prize as best composition of the year), the aspects that have been descibed expand and gel into a sort of undertow of intervals towards points of cadence, in accordance with a melodic synthesis which Guarnieri has identified in the works of Monteverdi. The instrumentation is also magnetized in this way around the colouristic images of the "melody".
Paolo Petazzi has written: "Especially from 1980 onwards (but with particularly significant examples in 1978-79), Guarnieri's composing achieves an extremely personal depiction of soundscapes which are visionary, iridescent, restlessly changing, charged with intense evocative power. The highly sensitive immediacy of this rapport with sound-matter becomes an istrument in the quest for images with elusive outlines, for situations that is left of form, of melody and of song are auras, shaddows, echoes, uncatchable yet charcged with haunting significance in teh restless instability of Guarnieri's sound–matter (…). In Guarnieri's aesthetic the highly sensitive immediacy of the rapport with sound-matter is nourished by a secret nostalgia for song; but his "cantabilità materica" is evoked by fluid situations in continual transformation, by the nervous succession of images with ephemeral and elusive outlines, by the complexity of tightly interwoven instrumental strands. The internal tension that sustains all Guarnieri's mature work's derives from the consistencywith which the centrality of the invention of sound is affirmed in them, the immediacy of the rapport with sound matter, because their formal construction can also be traced back to this, following courses which are not charted in advance but are closely connected with the nature of the sound-situations, with the logic of passing from one to the other."
Amongst Guarnieri's most recent works in Romanza alla notte n°2 for violin and orchestra (Parma, Teatro farnese, 20 June 1991), a further testimony of the profound rapport that links the composer with Pasolini's aesthetic. Guarnieri himself has written: "The theme of the night is a "constant" of this aesthetic, not romantically nocturnal but "Leopardianly" concrete and real, "angst-laden", "sick", "exisential", "impure". "Also dedicated to Pasolini- the "Leopardi of our century"-is II glicine for soprano, actor's voice, flute and violin with amplification (Milan, Umanitaria, 3 July 1993), in which the multilinear writing is characterized by broad "cantabili" and by moments of melancholy that existentially recall leopardi as in few of Pasolini's poems. Meda (1991) is still waiting to be performed-an opera-film for soloists, chorus and orchestra, to a textscreenplay by Pier'Alli after Pasolini, Euripides and Seneca, in which a medea who reflects herself, a threatening spectre, takes us to the heart of a myth, at once seductive and terrible, that expresses the collision between an archaic mistery-culture and a rationalist and progressive civilization. In Orfeo cantando… tolse…, ten lyric scenes to a text freely drawn from Poliziano's Orfeo ( Montepulciano, Cantiere Internazionale d'Arte, 31 July 1994), the beauty and musically of a limited number of Poliziano's verses, their expressive power and their sound, and the lyrical aura surrounding the words are all determing factors foe the musical form and for a dramaturgy constructed entirely around the music and the sense of space created by it. Most recently, collaboration with Giovanni Raboni has led to the cretion of Quare tristis for soloist, chorus, two instrumental groups, two tubas and live electronics (Venice Biennale, 1 july 1995).
Updated to 02/2014