Composers
-
bio
-
works
-
recordings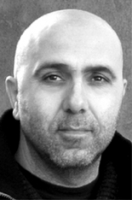 Elio Martusciello - Biography
Napoli, 1959
E-mail:
emartus@tin.it
Presenti successivi (2003)

He is a autodidact musician and composer. He teaches Electronic music and Electroacoustics composition in the classes of "Music and new technology" at the Conservatory of Cagliari.
His works have been awarded in many international competitions ("Grands Prix Internationaux de Musique Electroacoustique" Bourges, with: Limite inferiore sinistro -1994, Movimento quietudine-1997, Proiezioni-1997, Cattura magica-1997, Wave-1999, A@Traverso.it-2000, Presenti successivi -2003; "Luigi Russolo" Varese, with: Cthulhu-1991, Anamnesi-1992, Ambra-1994; "Phonurgia nova" Arles, with:
Peut-être -1997; "CIMESP" São Paolo do Brasil, with: HZ - Limits of the Technology-2001).
Presentations, concerts and conferences in other international festivals, universities, associations and reserch centres include: VIII Festival di Musica Contemporanea-900 Musicale Europeo (Naples), GRM (Paris), Futura (Crest & Lyon), Les Musiques (Marseilles), Link (Bologna), Musica Verticale (Rome), Spaziomusica (Cagliari), Synthèse (Bourges), CRM (Rome), Henie Onstad Arts Centre (Oslo), PANaroma (São Paolo do Brasil), Connecticut College (New London-USA), Centre d'études et de recherche Pierre Schaeffer (Paris), Korean Electro-Acoustic Music Society (Seoul), Soundscapes Symposium (Barcelona), 102 rue d'Alembert (Grenoble), Istituto Gramma (L'Aquila), Césaré (Reims), Musica Millemondi (Naples), MM&T (Milan), "Inventionen 2000" Berliner Festival Neuer Musik (Berlin), Zeppelin (Barcelona), Festival for ny musikk "Music Factory" (Bergen), Institut für Neue Musik und Musikerziehung (Darmstadt), Attraversa/o (Palermo), International Music Festival (Besançon), Elektrophonie (Doubs), Festival "Entre cour et jardins" (Dijon), Dispositif Coopèratif Audio "Collective Jukebox 4.0" (Geneve), Festival Acces-s, Culture Electoniques (Pau), Trans'électroacoustique, Project'son Festival (Marseilles), Controindicazioni 02 (Rome), Musiques Vivantes / GMVL "Aujourd'Hui Les Musiques du Futur" (Lyon), PEAM/03 "Pescara Electronic Artists Meeting" (Pescara), microOnde (Montessu), KuenstlerHaus "compilations & databases" (Bremen), Superfici Sonore "ixem" (Florence), a. o.
In 1993 he was composer in residence at the "Centre National de Création Musicale" - GMEM (Groupe de Musique Expérimentale de Marseille) and composed Non-nato. In 1997 he was composer in residence at the "Institut International de Musique Electroacoustique de Bourges (IMEB)" and composed Wave. In 1998, he received a commission by RAI Radio3 (Audiobox); he composed for them Voices from Audiobox. In 1999, he got a commission by the "Benevento SoundFiction" for the work Abita. In 2000, he was composer in residence at the "Césaré (Studio de création musicale)" and composed I.S.O. In the same year he was composer in residence at the "Institut International de Musique Electroacoustique de Bourges (IMEB)" and composed rita's kitchen.
He is also a Live Improvising Musician and has worked with musicians such as Simone Balestrazzi, Francesco Calandrino, Gianpaolo Campus, Eugene Chadbourne, Mathieu Chamagne, Ellen Christie, Mike Cooper, Chris Cutler, Michel Doneda, Pierre Favre, Wolfgang Fuchs, Gianni Gebbia, Lelio Giannetto, Michel Godard, Fernando Grillo, Tim Hodgkinson, Giuseppe Ielasi, Pasquale Innarella, Thomas Lehn, Christian
Malfray, Sabina Meyer, Jean-Marc Montera, Roberto Musanti, Richard Nunns, Alessandro Olla, Tony Oxley, Roberto Paci Dalò, Evan Parker, Miriam Palma, Olivier Pasquet, Walter Prati, François Sarhan, Giancarlo Schiaffini, Domenico Sciajno, Mario Schiano, Frank Schulte, Fabrizio Spera, Olivier Toulemonde, Giovanni Trovalusci, Luca Venitucci a. o.
He is a founding member of IATO (musicians collectives), IXEM (Italian eXperimental Electronic Music) and BOWINDO (new experimental italian label founded together with Giuseppe Ielasi, Domenico Sciajno, Alessandro Bosetti, Valerio Tricoli and Renato Rinaldi). In 2002 he started to collaborate with the multi-media art/life projects "la locandaccia" and "Arturo".
He is a regular member of the improvising group OSSATURA (with Fabrizio Spera and Luca Venitucci) and has so far collaborated with the following musicians and group: Peter Kowald, Mike Cooper, Stephen Buchanan, Jean-Marc Montera, Michiko Hirayama, Dorothea Schürch, Giancarlo Schiaffini, Wolfgang Fuchs, Musica Elettronica Viva, Giovanni Trovalusci, Dagmar Krause, Tim Hodgkinson, Fernando Grillo, Metamkine, Giorgio Battistelli, Chris Cutler, Otomo Yoshihide, Sachiko M, Christian Calon. Main concerts and festivals:
Vorax festival, Vicenza (1995), Progetto musica, Rome (1996), GRIM, Marseilles (1997), Linguafonie 3, Rome (1997), Sixth Annual Festival of Experimental Music London Musician's Collective, London (1997), Angelica-Festival internazionale di musica, Bologna (1998), Synthèse 98-Institut International de Musique Electroacoustique, Bourges (1998), Musique Action, Vandoeuvre (1999), Instants Chavirés Montreuil (1999), Musique Innovatrices, ST. Etienne (1999), Alternativa, Prague (1999), Festival International Musique Actuelle Victoriaville, Montreal (2000) Fruits de Mhère, Mhère (2000), Nits de musica, Barcelona (2001), MIX.02 - Elektronisk musik festival, Aarhus (2002), Total Music Meeting, Berlin (2002), Random, Rome (2003), Les Musiques, Marseilles (2003).He is a regular member of the interactive duo SCHISMOPHONIA (with Mike Cooper). Main concerts and festivals: "Audiobox" RAI Radio3 (Italy); "Musica Scienza" CRM (Rome); Anomalia (Rome); Biennale di Venezia" (Venice); RAI Radio3 Suite (Italy); Radio Bremen "Neue Musik" (Germany); NPS "supplement" (Holland); Artmedia VII Festival (Salerno); "Other Worlds" (Australia); ISTANTANEA Festival (Rome); Brancaleone (Rome); Synthèse/01 Festival (Bourges).
He is a member of the new improvising electro acoustic groups TAXONOMY (with Graziano Lella and Roberto Fega).
Updated to 06/2003